I am always in awe of
Danny Seo
. He is an environmental lifestyle expert, author, and television personality.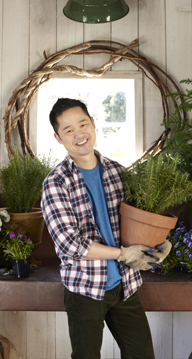 He is so creative in his endless search for ways to upcycle objects into beautiful and functional works of art. Here are some of my favorite projects of his. This throw that he made from random scarves loosely stitched together.
Using duck tape to reinforce regular canvas bags and turning them into beautiful indestructible shopping bags
Using newspaper to wrap a bottle of wine
Old raffle tickets to wrap a box
Paint chips for ID tags
Painting an old tray with chalkboard paint
He is a genius. If you are looking for some inspirational crafts, here are his
craft videos for Michaels
. Now I am feeling a big guilty about throwing some things away.....how about you?